Do you want a life of uncertainty and unhappiness or would you rather rejoice in the sure hope offered by God in His Word?
Seaside holidays offer a chance to relax and enjoy the beach, the sea and the bracing sea air. If the weather is good, what could be better than resting on a deck chair, gazing out to sea? Or, if you like messing about in boats, nowadays you can usually hire a variety of craft – from surf boards to jet skis – which enable you to have fun in the waves, or to venture further afield.
Living Dangerously
There was a time when seaside living meant that there was always a ready supply of food. You just had to catch it! Then fishing became an industry and the catches became bigger and bigger as trawling nets used a finer and finer mesh. Over-fishing by many nations led to imposed quotas and the loss of many jobs and much bad feeling. People began to view the sea as a conservation area, which needed protection. Now, with the prospect of rising sea levels as the ice caps melt, people who live near it are beginning to view it as a potential threat, especially in low-lying areas.
Sailors have long known that the sea
is a dangerous place which needs to
be respected and feared. Even now,
when mankind prides itself on having
'conquered' space and 'mastered'
most issues, the sea claims many
lives. Sometimes holiday-makers are
lost when they swim or stray into dangerous
waters. Fishermen or
cockle-pickers can lose their lives
when trapped by incoming tides and
experienced sailors can be overwhelmed
by high seas or unexpected
storms. Lighthouses positioned near
particular dangers issue a continuous
reminder that danger is never far away.
If the sea is dangerous to modern
sailors, imagine what dangers it presented
to mariners when seagoing
vessels were far less sophisticated. At
the time the Bible was being written,
ships would never dare to stray far
from land, even when
undergoing long sea
journeys. They would
only sail at certain
times of the year, when
storms were less
threatening and, even
so, sailors were often
shipwrecked. In one of
his letters to the believers
at Corinth, an
important city in
Greece, the apostle Paul recounted
some of the difficulties he had experienced:
"Three times I was beaten with rods;
once I was stoned; three times I was
shipwrecked; a night and a day I have
been in the deep; in journeys often, in
perils of waters, in perils of robbers, in
perils of my own countrymen, in perils
of the Gentiles, in perils in the city, in
perils in the wilderness, in perils in the
sea, in perils among false brethren" (2
Corinthians 11:25,26).
He mentions three shipwrecks and
he was to experience another one
later, which is graphically described in
Acts, chapter 27. But he also writes
about
"perils of waters"
and
"perils in
the sea"
, so this seasoned traveller
had a keen awareness of the danger posed by seafaring.

A much earlier voyager saw more than danger, however:

"Those who go down to the sea in ships, who do business on great waters, they see the works of the L

ORD

, and his wonders in the deep. For he commands and raises the stormy wind, which lifts up the waves of the sea. They mount up to the heavens, they go down again to the depths; their soul melts because of trouble.They reel to and fro, and stagger like a drunken man, and are at their wits' end. Then they cry out to the L

ORD

, in their trouble, and he brings them out of their distresses. He calms the storm, so that its waves are still"

(Psalm 107:23-29).
The Psalmist saw the sea and its stormy waves as an expression of God's power and sovereignty. He knew that God reigns over the sea, just as over the land that He has created, and that He can bring a storm or calm and quiet, if and when He so chooses.
In Scripture, the sea is likened to a turbulent world full of danger and difficulty for the unwary. The prophet
Isaiah once used a powerful image, when calling people to repentance: "'I create the fruit of the lips: peace, peace to him who is far off and to him who is near,' says the L
ORD
, 'And I will heal him.' But the wicked are like the troubled sea, when it cannot rest, whose waters cast up mire and dirt. 'There is no peace,' says my God, 'for the wicked'" (Isaiah 57:19-21).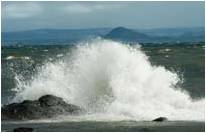 The restlessness and potential violence of a stormy sea is clearly evident. It seems determined to
smash and destroy everything in its path. Time and again the waves pound and crash. The prophet was saying that God views rebellious humans in the very same way – as never satisfied until they have stirred themselves up to do and think wrong things. God offers them peace and tranquillity but they prefer a life of chaos and disorder: a life without God.
The Lord Jesus spoke about our age in much the same way when foretelling the muddled and pressurised world that now exists, just before his return to earth:
"There will be signs in the
sun, in the moon, and in the stars; and on the earth distress of nations, with perplexity, the sea
and the waves roaring; men's hearts failing them from fear and the expectation of those things
which are coming on the earth, for the powers of heaven will be shaken. Then they will see the Son of Man coming in a cloud with power and great glory"
(Luke 21:25-27).
The next time you look out to sea and marvel at its restless power, think about the many undercurrents in
today's society and all the energy that is being expended by people who want to satisfy their personal ambitions. Then ask yourself whether you want to be restless and perplexed for evermore? Or would you prefer a life of peaceful tranquillity in the new world that the Lord Jesus will establish when he returns to reign on earth as king? It's your choice!
Editor, Glad Tidings Magazine